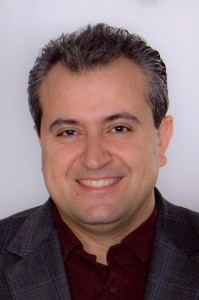 Mr. Nikahang Kowsar, an earthologist and environmental activist, is the Personality of the Year 2016, in the category of "Environment and Natural Heritage" for:
– His invaluable efforts to promote and increase people's knowledge of the environment and natural heritage of his country, Iran.
– His ability to utilize his journalistic talent for preservation of environment and natural heritage.
– The publication of hundreds of articles and reports, as well as production of numerous videos in order to inform the public about the environment and natural heritage issues.
– And establishing a successful NGO with the aim of spreading knowledge about the subject.
Mr. Kowsar's activities have become important and significant contributions in informing public and keeping the relevant issues alive in the critical and very sensitive area of water resources management and conservation of Iran's environment.
Despite the fact that Mr. Kowsar was threatened in Iran due to his journalistic activities, and was eventually forced to flee his country, he has continued his activities both in Canada and Iran. He has continued using the free media and media outlets effectively for expanding knowledge of natural heritage and environmental issues amongst his compatriots and encouraging them to become active in the preservation of such treasures.
Nikahang Kowsar bio:
Nikahang (Nik) Kowsar, is an Iranian-Canadian cartoonist and journalist residing in Washington D.C. Born in Tehran, Kowsar, 46, studied Geology and Sedimentology in Iran and Journalism in Canada and has worked for the media, environmental organizations and non-profits since 1991.
Growing up in Iran, he learned a great deal from his father on aquifer management projects and from his mother who is a painter.
Kowsar joined Golagha satirical magazine while studying Geology in 1991 and later became a staff cartoonist of Hamshahri Newspaper in 1993. He was a staff cartoonists and editorial board member of a number of newspapers before leaving Iran in 2003. He was also a managing editor of the bilingual Newsletter of the International Rainwater Catchment Systems from 1996 to 1997.
Nikahang wrote numerous Op-Eds criticizing the water management in Iran and alerted the President on the negative impact of building hundreds of dams without paying attention to the water loss in aquifers and on not having a national program for reversing the situation in 2001.
He ran as an environmentalist in the 2003 City Council elections creating the "Green Coalition", where all groups lost to Ahmadinejad's Abadgaran.
Kowsar was arrested in 2000 for one of his cartoon that had triggered a 4 day protest in the holy city of Qum and caused a national security crisis before the parliamentary elections. He left Iran for Canada in 2003 after receiving a death threat, where his family joined him 4 years later.
He has worked as an editor and assistant editor, radio producer and cartoonist for Marketwire, IFEX, Radio Zamaneh and Roozonline and has been running Khodnevis.org as the editor-in-chief. He is a member of the New York Times Syndicate and is on the board of directors of Cartoonists Rights Network International. He produces Abangan, a weekly video show on drought and water crisis in Iran that's aired by Andisheh TV/Ofogh-e Iran satellite TV Channel.
Nikahang is the recipient of 3 Crystal Pen Awards of the Iranian Press Festival and International Courage Award for Editorial Cartooning from CRNI and Honorary Diplomas from The Canadian National Press Club and Tolentino Caricature Contest in Italy.