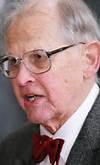 On the eleventh of April, some supporters of the Islamic government in a hostile demonstration objected to the request by Richard Frye to be buried in the historic city of Isfahan, Iran. These demonstrators claimed that Frye was a US spy and should not be allowed to buried in Iran.
As the demonstrations were happening in Isfahan, the government's publications actually reflected on the protests and expressed support for them. These demonstrators who also have a publication named the "revolutionary youth" stated that they will attempt to demolish Pope's tomb. In fact, it looks like that at the same time, his tomb was vandalized and paint was used to write all over his beautiful tomb.
Arthur Upham Pope(1881–1969) was best known as a pioneering American expert on Persian/Iranian art and the editor of the authoritative Survey of Persian Art. He was also a university professor of philosophy and aesthetics, archaeologist, photographer, political activist, museum director and planner, pianist, interior designer, and founder of an international scholarly organization. Both Pope and his wife Phyllis Ackerman are buried in Isfahan, Iran.
Many reports from Iran show the outrage by other Iranian youth groups who love Persian culture and history and in their own way have been protesting the action of these government supported protestors in Iran in weblogs, and Heritage Sites. They strictly and adamantly express their outrage in these actions and state that these protests in Isfahan do not represent the opinions and thoughts of millions of Iranians who have supported and preserved professor Pope's tomb in Iran and also support eventual burial of professor Frye in Iran.
Here is a video of Dr. Frye discussing his wishes.