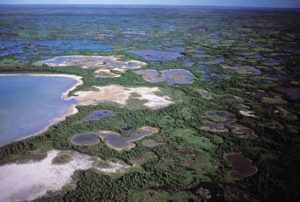 One of the recent reports outlines the impact of oil and gas extraction and mining in various areas of Canada which accounts for 31% of threats against natural and cultural sites since 1985. It is very alarming that Mining and oil and gas extraction account for nearly a third of threats to UNESCO World Heritage Sites in Canada over the last 30 years, according to the international organization.  In fact,  it has been reported that a total of 75 threats against nine designated natural and cultural sites have been documented by the United Nations Educational, Scientific and Cultural Organization's State of Conservation database since 1985.  The next most common threat types are management and institutional factors (13), service infrastructure (10), transportation infrastructure (8) and buildings and development (7). It has been reported that most of the threats occurred between 2000 and 2013.  The threats against Canadian heritage sites were identified in a series of 41 UNESCO reports since 1985.
Wood Buffalo National Park in northern Alberta was the subject of the greatest number those reports, with nine in total, followed by the Historic District of Old Québec and Canadian Rocky Mountain Parks, which each had eight.
Number of threat reports:
Wood Buffalo National Park: 9
Historic District of Old Québec: 8
Canadian Rocky Mountain Parks: 8
Gros Morne National Park: 5
Nahanni National Park: 5
Waterton Glacier International Peace Park: 2
Dinosaur Provincial Park: 2
Kluane / Wrangell-St. Elias / Glacier Bay / Tatshenshini-Alsek: 1
Miguasha National Park: 1
In 2015, UNESCO reported on the Wood Buffalo and expressed concern for the environmental impacts on the Peace-Athabasca Delta from hydro-electric dams, oil sands development, and proposed open-pit mining in the vicinity of the property, which could negatively impact its outstanding universal value.