By Dr. Kaveh Farrokh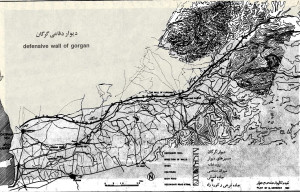 The article below "Fortifications" by Wolfram Kleiss in the Encyclopedia Iranica was originally published on December 15, 1999 and last Updated on January 31, 2012. Kleiss provides an overview of the fortified passages and defenses of the Sassanians, some of which can be traced back to the Achaemenid era.
This article is available in the print volumes of the Encyclopedia Iranica (Vol. X, Fasc. 1, pp. 102-106).
Kindly note that the article below contains pictures and captions that do not appear in the Encyclopedia Iranica version.
==============================
The present article deals with the fortified passages and defenses that are implied under the term bārū. Certain passes in Persia still feature barriers going back to the Achaemenid period. An example is the stone wall at the Kotal-e Sangar in Fārs, which bars the way from Persepolis and Bīšāpūr to Ḵūzestān on the saddle (not a real pass) between the Mamassanī plain (plain of Deh-e Now) and the Fahlīān plain, and which is identical with the medieval and modern caravan route (today's modern highway between Shiraz and Ahvāz). The rubble wall that by now has almost entirely disappeared was originally 1,230 m long and extended between both sides of the saddle's rugged, steeply rising rock faces. The construction has been associated with a wall mentioned by Arrian (Anabasis 3.17), which the Uxians are said to have erected as a customs-barrier on the road between Ḵūzestān and Fārs, and around which Alexander had made a great détour on his expedition from Susa to Persepolis before taking it by surprise (Stein, pp. 39-44; Kleiss, p. 213, fig. 1).
Another wall (Kleiss, p. 214, Fig. 2) was built on top of the pass 36 km east of Farrāšband and 28 km west of the modern city of Fīrūzābād in the province of Fārs. It overlooks the road between the Sasanian settlements around Farrāšband and the Sasanian round city of Gōr (q.v.) with the bridge over the river west of Fīrūzābād, and is, at the same time, a barrier similar to the one in the Qalʿa-ye Doḵtar area north of Gōr (present-day Fīrūzābād, q.v.), a fortification at the northern access to the plain of Fīrūzābād (Huff). The barrier on the pass extends over a length of about 200 m in a fairly straight line from northwest to southeast in the shape of a ruined rubble wall that was once of considerable height. On the eastern side of the wall lies a heap of stones, the remains of a small halting-place or a tower, the exact measures of which are unknown. The dating of the barrier is unclear; perhaps it was built in the Sasanian period and continued being used in the Islamic period.