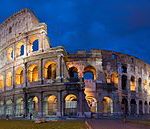 When you visit Rome, the very first place on your list of World Heritage places to see, is of course the Colosseum. But the 2,000-year-old amphitheater is a magnet for tourists and vandals alike. It has recently been reported that the police in Rome have ticketed yet another tourist for vandalizing the Colosseum.
This recent incident involves an Ecuadorian visitor who decided that it was a good idea to carve the names of his wife and child onto the ancient site, as reported by the Associated Press. An official tour guide for the Colosseum found the defacement in progress and reported it to the local authorities. Fines for this type of vandalism have ranged, carrying up to a 20,000 euro fine, or approximately $21,000, according to AP. The tourist will have his day in court and a judge has will decide what the fine will be.
The Colosseum is one of the most-visited attractions in the world, and it has been reported that the World Heritage site usually welcomes nearly 7 million people annually. Colosseum is an ancient Roman amphitheater that served as a center of entertainment starting in the first century according to experts. Local residents would come to the Colosseum to watch gladiators fight each other or wild animals to the death. The 2,000-year history of this structure, and in particular its violent displays, has long drawn people from around the world who want to learn about life under ancient Roman rule.
It has also been reported that just a couple of months ago, in February a French tourist was arrested for carving her name into the Colosseum using an ancient coin she found. Two Brazilian men attempted to break into the Colosseum just one month earlier, with one man falling 13-feet and breaking his hip. All of these incidents come after the Colosseum recently opened its doors again after a three year renovation.