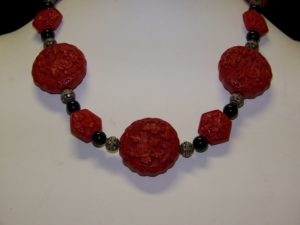 As reported in Shanghai Daily:  Four beads, made of a kind of eggshell and the smallest 1.26 millimeters in diameter, were discovered in an ancient site from the late Pleistocene dating between 8,000 and 12,000 years ago in the city of Qingtongxia.
All were smaller than 2 millimeters in diameter, archeologists said yesterday.
The excavation was conducted by Ningxia Institute of Cultural Relics and Archeology, the Institute of Vertebrate Paleontology and Paleoanthropology and the cultural relics administration of Qingtongxia from May to August.
"It is incredible that it can be so well processed with such a small diameter. It is rare among similar ornaments unearthed in other sites around the world," said Wang Huimin, a researcher with the Ningxia institute.
Archeologists said the beads showed excellent craftsmanship and the aesthetic tastes of ancient humans. They said further research is needed to determine their exact purpose or meaning.
The Qingtongxia site is one of China's top 10 archaeological finds of last year and has revealed more than 10,000 items, including stoneware, ornaments and plant seeds.