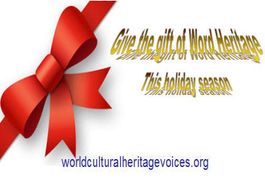 Give the gift of World Heritage this holiday season.
Give your family and friends the gift of preservation and knowledge of World Cultural Heritage, so that they could also be part of the protection and conservation of beautiful and historic sites of their own countries as well as our planet.
By becoming a member of World Cultural Heritage Voices, you can also partner with us in our educational programs in order to preserve sites in countries suffering from wars, conflicts and poverty.
Remember that every donation makes a difference, regardless of size.