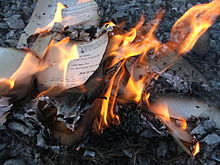 On Tuesday last week, UNESCO voiced concerns over reports of mass book-burning in Iraq, saying that it is the most "devastating" of such actions in history if confirmed.
Recent reports from Iraq show that books on philosophy, law, science and poetry have been torched by the armed extremists who are targeting cultural heritage. UNESCO Director-General Irina Bokova said that it was part of a campaign of "cultural cleansing", adding that "Such destruction is a cruel reminder that the nations of the world must remain united to combat such fanaticism today," Bokova added.
Islamist State extremists currently hold the city of Mosul, the second-largest city in Iraq and have been destroying cultural and national heritage sites in both Iraq and Syria.