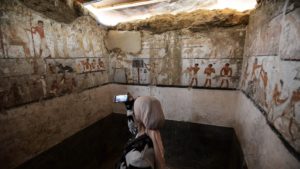 Egyptian archaeologists unearthed a well-preserved 4,400-year-old tomb from Egypt's Fifth Dynasty, a prosperous era where pharaohs ruled, palaces were erected and pyramids were built.
The tomb was discovered in Giza's western cemetery by a team of Egyptian archaeologists at the helm of Mostafa Waziri, the secretary general of Egypt's Supreme Council of Antiquities.
Antiquities Minister Khaled al-Enany said that the tomb belonged to Hetpet, a priestess to the goddess of fertility Hathor. Female priests were not common in ancient Egypt.
al-Enany told reporters during a press conference on Saturday that the cemetery where the tomb was found is home to the graves of other official figures from the Old Kingdom's Fifth Dynasty, which spanned from 2465 BC to 2323 BC.
Hetpet's name and various titles are engraved inside the tomb, alongside paintings and other artifacts including a purification basin.
"The tomb is in very good condition," Waziri told the Agence France-Presse. " The paintings show scenes of music and dance. "