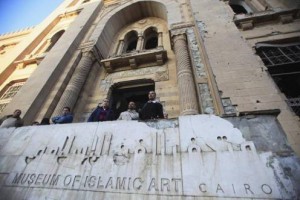 Cairo's Museum of Islamic Art which has been home to almost 100,000 artifacts and priceless key global collections was extensively damaged when a car bomb exploded early Friday (January 24th, 2014) morning. The blast which was outside the Police Security Directorate across the street from the main entrance to the Museum was the first of four that rocked Cairo according to several news agencies.
Irina Bokova, Director-General of the UN Educational, Scientific and Cultural Organization (UNESCO), has expressed grave concern over the damage caused to Museum.
"I firmly condemn this attack and the destruction it has caused to the world-renowned Museum of Islamic Art in Cairo, which hosts thousands of invaluable artifacts. This raises the danger of irreversible damage to the history and identity of the Egyptian people," Bokova said.
"This heritage is part of the universal story of humanity, shared by all and we must all do everything to safeguard it," the UNESCO director-general stressed.