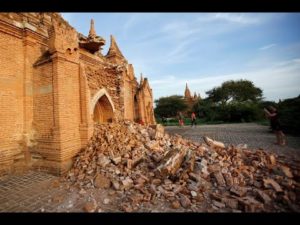 A 6.8-magnitude earthquake last week in Myanmar Killed 3 people and damaged over 170 Temples. One of the major sites of destruction was the historic city of Bagan as reported by a number of news outlets. The epicenter was however almost 400 miles north of Yangon according to the United States Geological Survey. Yangon is the country's largest city.
Bagan is at the heart of Central Myanmar's growing tourism industry, which has been growing rapidly since 2011. Bangan's rich history goes back to between the 11th and 13th centuries, when the city was the capital and over 2,000 structures demonstrate the rich history of the city.
Earthquakes have also been part of the history of Bagan. Bagan has survived a number of earthquake just this past century, like one in 1975, which was just as powerful as last week's earthquake. In that that earthquake a number of structures including the Sulamani Temple were damaged. The Sulamani Temple was rebuilt in the 1990s, along with many other structures.
According to the New York Times, last month, Myanmar's tourism officials had announced plans to welcome more than five million tourists this year.
While loss of life and helping survivors are of utmost importance after earthquakes, the officials are beginning to assess the damage to the country's heritage sites in Bagan and surrounding cities.