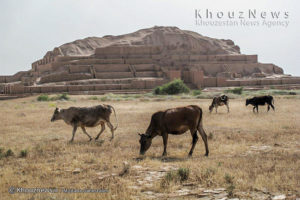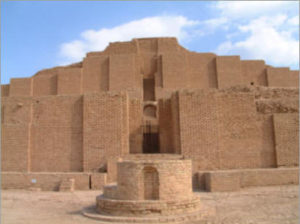 According to a report by Tariana Society, a non-profit in Iran's Khuzestan province, the ancient temple of Chogha-Zanbil is turned into a grazing land for sheep, cows and stranded dogs. They wander around this site all through the day and the land is covered by their excrements.
The relevant authorities in Cultural Heritage Organization respond to the protests of tourists and friends of cultural sites by denying the facts. Alireza arzaghi, the director of the site, has explained the situation in this way: "The fact is that the farmers are burning their lands and the animals are driven out. Nevertheless, we already have cleaned the site". But the pictures rendered by the Tariana Society clearly show that this is not a recent incident and the situation has been the same all through the year. The director of this society says: "This one-thousand-acre site has only three guardsmen who work in shifts and they are unable to secure the site. They have not received their wages for months and have no incentive to do their job.
The temple of Chogha-Zanbil is one of the most beautiful sites with 3000 years of history. It belonged to Elamids and has been recognized as a cultural heritage for humanity by UNESCO in 1979.