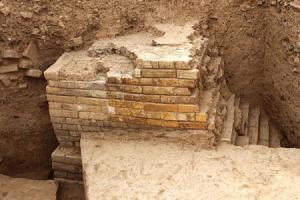 As reported by several media outlets last month (Nov 2014), excavations at Persepolis, have uncovered an ancient gate in Tale-Ajori. The joint Iranian-Italian expedition team has been exploring Tel Ajori or 'brick mound'in Persepolis during October and November. During the recent excavations, a large gate was unearthed. Perspolis is a magnificent palace complex in Iran founded by Darius the Great around 518 BC. Even older than Persepolis itself, Tale-Ajori lies 3,500 meters outside the city and is believed that it is of great significance for understanding the Achaemenid Empire.
The expedition has been led by Alireza Askari Chaverdi Ph.D of Shiraz University and Prof. Pierfrancesco Callieri of Italian University of Bologna, and financed by provincial department of Iran Cultural Heritage, Handicrafts and Tourism Organization (ICHHTO).
The researcher believe that most exciting findings of this excavation are 30 pieces of glazed bricks adorned with images of winged animals, incorporating mythic beasts of Elamite and Achaemenid eras in a style not unlike that of Mesopotamia and Susa in southwestern Iran. The entire outer surface and the great passageway under the gate opening are covered with the colorful glazed bricks.
The discovery of the new gate may shed new light on the role Tale-Ajori played within the ancient landscape.
Photographs were taken by Hassan Zohari and kindly shared with WCHV