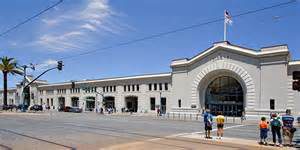 The National Trust for Historic Preservation announced earlier this month, the 2016 list of America's 11 Most Endangered Historic Places. The annual list spotlights important examples of the nation's architectural and cultural heritage that are at risk of destruction or irreparable damage. The list has included more than 270 sites which have been placed on the list over its 29-year history, and in that time, fewer than five percent of listed sites have been lost as reported by the Trust.
The National Trust's 29th annual list includes historic places in America's urban areas at a time when cities across the U.S. are experiencing a resurgence. Over the last few decades, millions of Americans especially younger generation, have chosen to relocate to urban areas, with many choosing to live in distinctive, character-rich older and historic neighborhoods. Preservation is playing a key role in this trend, and Trust's research suggests that older buildings are one of the most powerful tools in revitalization of nation's urban centers.
The attention that comes from being on the list — along with the community support required to be included on it, can save a site and as a result it is important for the National Trust to place these names on its list.
Here are the 11 most endangered places for 2016 (in alphabetical order):
Azikiwe-Nkrumah Hall at Lincoln University, Lincoln, Pennsylvania

Bears Ears, Southeastern Utah

Charleston Naval Hospital District, North Charleston, South Carolina

Delta Queen, Houma, Louisiana

El Paso's Chihuahuita and El Segundo Barrio Neighborhoods, Texas

Embarcadero Historic District, San Francisco, California

Historic Downtown Flemington, New Jersey

James River, James City County, Virginia

Lions Municipal Golf Course, Austin, Texas

Mitchell Park Domes, Milwaukee, Wisconsin

The Sunshine Mile, Tucson, Arizona