A 2,400-year-old tomb filled with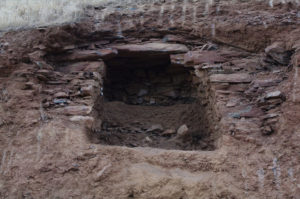 skeletons – along with other artefacts including earrings and ceramic vessels – has been discovered in Iraq, scientists say. Among the artifacts found in the tomb, researchers found a bracelet decorated with images of two snake heads peering at each other.
The tomb was constructed toward the end of the Achaemenid Empire (550 to 330 BC), an empire in the Middle East that was conquered by Alexander the Great in a series of campaigns, researchers said.
The skeletons were found in a jumbled state making it difficult to determine exactly how many people were buried in the tomb. The disarray indicates that someone had entered, and possibly robbed, the tomb in ancient times, researchers said.
Led by Michael Danti from Boston University in the US, researchers also found a pair of bronze earrings and the remains of at least 48 pottery vessels, five of which were still intact.
"There were five complete vessels found in the tomb: one bridge-spouted jar, three pitchers and one miniature jar. They were all found near the heads of skeletons," researchers told 'Live Science'.