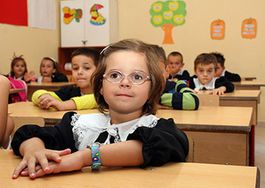 Within the framework of the Fourth World Forum on Intercultural Dialogue, UNESCO, in collaboration with the Government of Azerbaijan, organized a High-level meeting on the importance of girls' education for peaceful and sustainable societies. The attendees agreed that investing in girls' education is an urgent and important humanitarian objective and a priority for the global community today.
According to UNESCO's Global Education Monitoring Report Gender review for 2016, "Conflict reinforces gender inequality. Girls are almost two and a half times more likely to be out of school if they live in conflict-affected countries. Refugee girls are less likely to finish primary education, transition into and complete secondary education."
At the same time, educated girls and women are strong powerful agents of change.  Research has shown how empowering girls means a better future for societies as a whole and especially with major impact on such issues as reproductive health, improved family health, economic growth, for the family and for society, as well as lower rates of child mortality, malnutrition and child marriage.
The meeting, co-hosted by Ms Irina Bokova, Director-General of UNESCO, and a number of international dignitaries concluded with the launch of the Global Humanitarian Call to Invest in Girls' Education. All speakers stressed the importance of girls' education as a tool to counter violent extremism, and called for increased investments in quality education for all.