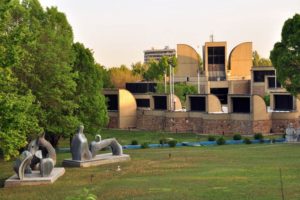 This week, Ehsan Aghaei, the ex-manager of the Tehran Contemporary Art Museum, has told news reporters that the museum houses 1500 non-Iranian works of art out of which only 10 works are outstanding and unique.
In the era before the Islamic Revolution, the museum held a treasure trove of modern art works. Experts estimate that there were more than 4000 works out of which 400 were considered exceptional.
The museum was set up under the auspices of the ex-queen Farah of Iran and was inspired by old Iranian architecture. Unfortunately, and just like other similar instances, the museum was afflicted by negligence, lack of maintenance, and the plunder of works of art, a process that has recently been reflected in the news. Thus, what the ex-manager of the museum has announced is sadly a fact.