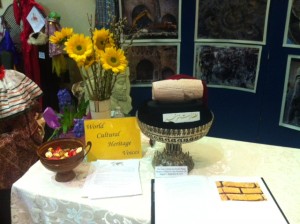 World Cultural Heritage Voices Organization held an exhibit booth at Nowrouz Festival event on March 17th at California State University Union in Sacramento. The booth featured a real-size replica of Cyrus Cylinder and pictures of several of Iranian Cultural and Historical Buildings.
Nowrouz Festival is an annual celebration event that is set up by various organizations at CSUS in Sacramento and is well attended by the Iranian American community of Sacramento.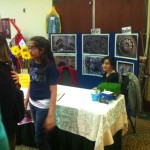 The event features traditional costumes, music, dance and food to celebrate Nowruz as well as communicatin of Nowruz Heritage and history to the community. The booth was visited by many attendees who were curious about the mission of the organization.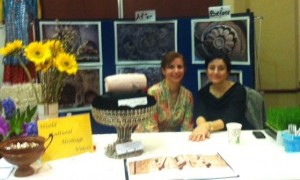 Ms. Lillee Mozaffari and Ms. Deniz Hazegh, two members of WCHV's Board of Trustees, shown here greeting attendees at the event and displaying the replica of the Cyrus Cylinder.