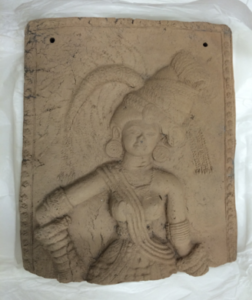 It took almost a decade but over two hundred artifacts which had been stolen and smuggled out of India to be sold in the international market were finally returned to India.
It has been reported by a number of media outlets that about nine years ago, federal investigators received a tip about a shipment of seven crates destined for the U.S. The shipment had been labeled as "marble garden table sets." Further examination of the shipment by the U.S. border authorities revealed that the crates actually contained numerous antiquities, setting off "Operation Hidden Idol," which resulted in the arrest of six people. According to Homeland Security Investigations (HSI), an investigative arm of U.S. Immigration and Customs Enforcement (ICE), the artifacts are worth more than $100 million.
Last week, more than 200 of those artifacts were returned to the government of India in a joint ceremony with U.S. Attorney General Loretta Lynch and India's Prime Minister Narendra Modi.
As reported by CNN and ABC, the treasured artifacts were stolen from religious sites and date back to 2,000 years ago. The Department of Homeland Security returned religious statues, bronzes and terracotta pieces to the Indian government. The collection includes a statue of Saint Manikkavichavakar, a Hindu mystic and poet from the Chola period (circa 850 AD to 1250 AD), that was stolen from the Sivan Temple in Chennai, India. It is valued at an estimated $1.5 million. The items also include a bronze sculpture of the Hindu god Ganesh estimated to be 1,000 years old.
The crates were allegedly imported by former New York-based art dealer Subhash Kapoor, who was arrested and is now awaiting trial in India for allegedly looting tens of millions of dollars' worth of rare antiquities from several nations, according to ICE. He has pleaded not guilty. ABC reported that, in addition to Kappor, five people were arrested in connection to the looted artifacts. Some items allegedly brought into the U.S. through various schemes were found in the Honolulu Museum and Peabody Essex. It is unclear how those museums actually obtained the artifacts. Those items were also turned over to federal authorities.
Over the past decade, the U.S. has returned more than 7,500 artifacts to countries around the world. Last summer, a $15 million Picasso painting was turned over to France at least 14 years after it was stolen from a Paris museum. And, just last month, a stolen Christopher Columbus letter, which turned up in the Library of Congress, was returned to Italy.