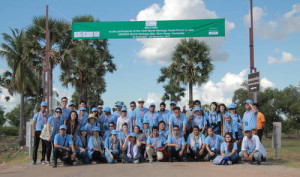 The 1st World Heritage Youth Forum (WHYF) in Asia, held from 25 November to 3 December 2015 in Siem Reap, Cambodia, successfully concluded with serious and realistic suggestions by young people to promote participation in World Heritage preservation among their peers in the Asia-Pacific region as reported by the UNESCO.
The WHYF in Asia, organized by the UNESCO World Heritage Centre, the Cambodian National Commission for UNESCO and APSARA National Authority, brought together 38 young people between 20 and 30 years old, from 20 countries in the Asia-Pacific region.
The Forum focusing on the three main themes of monument management, community and tourism, created a great environment for lively discussions with experts. The participants also visited Angkor, a World Heritage site in Cambodia, and shared issues related to World Heritage sites in the region. The discussions also explored roles and challenges related to World Heritage preservation and promotion and the participation of youth. The highlight of the forum was presenting the Youth Declaration during the 25th Technical session for the International Coordinating Committee for the Safeguarding and Development of the Historic Site of Angkor (ICC-Angkor), on 2 December.
The forum participants expressed their concerns to the 300 attendees of the technical session, stating that World Heritage conservation is not a priority on the national level in some developing countries, and that there is a marked lack of interest and shared responsibility among young people in the Asia-Pacific region. Therefore, it is important to create active roles for young people in the efforts.
The young participants suggested that in order to boost participation among young people, they need to emphasize the importance of youth empowerment programs such as the formation of a World Heritage Youth Council at the regional, national and university levels to ensure successive hosting of an event like the World Heritage Youth Forum. They also suggested that State Parties support initiatives fostering social innovation for World Heritage, such as an annual World Heritage Day for Young People, and encouraged the private sector to participate in conservation and promotion of World Heritage sites through Corporate Social Responsibility (CSR).
Asking various stakeholders to reflect the voice of young people and provide mentorship, they concluded the declaration with the strong resolution: "to maintain the legacy that is our common heritage and to respect ancestral values not just within the Asia-Pacific region but for the world".
The declaration will also be presented during the 40th session of the World Heritage Committee in Istanbul, Turkey from 10 to 20 July 2016 as reported by the UNESCO.
http://whc.unesco.org/en/news/1417