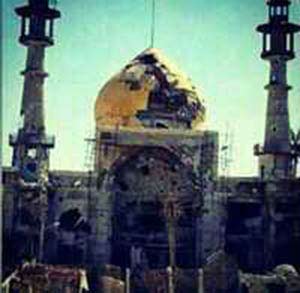 Earlier this month (August 2014), UNESCO announced new strategy and prioritization to safeguard National Heritage sites in the conflict zones. "Recent events in Syria, Iraq, Libya and Mali have highlighted the multiple threats to cultural heritage during crisis, including deliberate attacks, destruction as collateral damage in fighting, the greed of unscrupulous traders and collectors, vandalism of factions that seek to erase the achievements of past cultures." UNESCO stated.
UNESCO believes that recent events have shown the complexity of any intervention to safeguard cultural heritage. UNESCO in the past has developed a comprehensive set of international instruments to protect cultural heritage. The Convention on the Means of Prohibiting and Preventing the Illicit Import, Export and Transfer of Ownership of Cultural Property (1970) and the World Heritage Convention(1972) provide a solid basis to protect cultural heritage. The Hague Convention for the Protection of Cultural Properties in the Event of Armed Conflict (1954) and its Protocols set further international standards to deal with the specific risks faced by heritage during conflict. In addition, the Statutes of the International Criminal Court have defined the intentional destruction of historical buildings as a war crime.
Recognizing the powerful role of culture in building social cohesion and contributing to reconciliation and peace, the UN Security Council—in its Resolution 2100 on Mali, and Resolution 2139 on Syria–called for the protection of cultural heritage and diversity. The integration of culture in humanitarian, recovery and reconstruction operations provides the challenging opportunity of defining how cultural heritage protection can effectively contribute to the broader UN crisis response as UNESCO states.
History and the events of the last few years have shown that conflicts take a heavy toll on National Heritage. More than three years of conflict have taken a heavy toll on heritage in Syria. This is the reason why UNESCO has launched a web-based international observatory to monitor the situation of cultural heritage in Syria and help international cooperation to protect the country's heritage.
In their Joint Appeal for the safeguarding of Syria's cultural heritage, UN Secretary-General Ban Ki-moon, UNESCO Director-General Irina Bokova and then UN and League of Arab States Joint Special Representative for Syria Lakhdar Brahimi stressed this important risk and its devastating implications. Due to the recent upsurge of new conflict in Iraq UNESCO recently organized an Emergency Experts' meeting for the safeguarding of the Iraq's cultural heritage, bringing together Iraqi and international expertise to design an Emergency Response Action Plan for the protection of the country's cultural heritage at risk.
A key lesson learned from the implementation of these international standards at the country level, is that prevention and long-term engagement are essential to mitigate the impact of any crisis as UNESCO states. However, in the case of many of these countries it is essential that beyond country reporting more international partnerships are created for reporting, prevention, documentation and hopefully eventual repair and construction.