It's summer and UNESCO has got vacation plans for you. Every year, more and more tourists are traveling around the globe visiting historical sites and many UNESCO World Heritage sites. In fact, with many countries like China adding more tourists to the total global tourism, it is not a big surprise that UNESCO decided to create a new program with a partner.
The small-ship cruise line Seabourn is in a new partnership with UNESCO and they have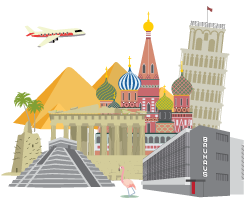 created a new program that offers increased access to the organization's diverse World Heritage sites such as Avignon, France, the Giant's Causeway in Northern Ireland and Peterhof Palace in St. Petersburg.The new partnership, announced last month (June 2014) and beginning with itineraries departing on or after Aug. 1, is expected to raise $1 million over six years by charging passengers $5 to $10 extra for World Heritage tours. The donations will be earmarked for preservation work by UNESCO.
In exchange, the Seabourn Cruise line gains access to World Heritage experts for its on-board speaker roster. Speakers will include experts who have undertaken UNESCO World Heritage Center work, including those who established guidelines for inscription, and evaluated them as archaeologists, art and architecture historians and geologists.
On shore, Seabourn plans to offer special World Heritage Discovery Tours developed with UNESCO site managers. Although many of the tours are still under development, tours may include traditional musical performances, meetings with preservationists and more tours that include the experts. Seabourn already offers visits to roughly 150 UNESCO World Heritage sites annually on its sailings.