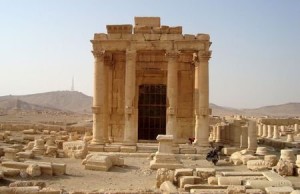 UN cultural agency UNESCO will gather in Istanbul this month to review candidates to join its prestigious World Heritage List. There has been heightened interest as well as new discussions related to threats to heritage sites. This is due to the fact that there have been increasing terror attacks as we saw even in Istanbul just recently but also because the Islamist terrorists have been on a campaign of destruction for the last few years. Just recently Islamist terrorists blew up the ancient Nabu temple in Iraq. In 2012 a Malian jihadist blew up nine mausoleums and part of Timbuktu's famous Sidi Yahia mosque. In Afghanistan, meanwhile, the Taliban destroyed the giant Bamiyan Buddhas in 2001.
At the meeting in Istanbul this year 29 dossiers are being considered by the World Heritage Committee, made up of 21 countries serving six-year terms. These dossiers include a dossier for the work of architect Le Corbusier, after failed attempts in 2009 and 2011 (as we reported earlier here on WCHV website), have been revamped and come with high marks from a committee of experts who evaluate the submissions. Another dossier is on the works of the Brazilian architect, Oscar Niemeyer, who created the plans for the country's capital Brasilia. Brazil's dossier wants Niemeyer's modern ensemble of Pampulha, a leisure centre built in 1940 around an artificial lake at Belo Horizonte, to be inscribed on the prestigious list too. The United States of America is promoting the works of architect Frank Lloyd Wright, but the experts' assessment was not encouraging according to some news outlets.
As always, the World Heritage process has often caused diplomatic friction, and objections for varying reasons. This year, Thailand has proposed its Kaeng Krachan forests for listing as a cultural site, angering neighboring Myanmar. Myanmar sent a strong letter to UNESCO stating that 34 percent of the site is in its territory. Other news outlets also report that Britain annoyed Spain by proposing the Gibraltar grottoes as a British heritage site, and Turkey has a dossier promoting the ancient ghost city of Ani, once the capital of neighboring Armenia.
Other dossiers include Canada's Mistaken Point reserve with its 560 million-year-old fossils, Cave art dating from the 5th century BC in Zuojiang Huashan in China, the dolmens of Antequera in Spain and Gibraltar's Neanderthal grottoes are also in contention. Among natural sites under consideration are Iran's Loot Desert and the Revillagigedo archipelago in Mexico. The World Heritage List today has 1,031 sites in more than 163 countries.
Apart from the prestige the designation gives to a site, it can also be a boost to tourism which helps poorer countries and also in terms of receiving financial aid to preserve their sites; therefore, this is a very important designation and at times takes many years to obtain. This year the Committee will also review the status of 48 sites currently listed as "in danger".