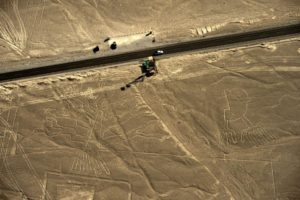 Peru's Nazca Lines, an ancient archaeological site and UNESCO World Heritage site, were damaged after a driver plowed a cargo truck through the sand, officials announced on Tuesday. 
The driver left "deep prints in an area approximately 100 meters long," and damaged part of three geoglyph lines, according to a statement given to Agence France-Presse. 
He ignored warning signs that tell drivers not to enter the area, and drove over the lines on January 27, AFP reported. The man was detained and had charges filed against him.