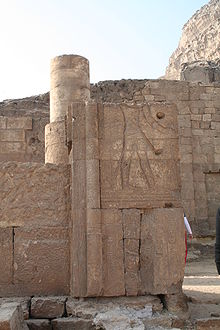 In March 2013, a visit to Cairo by UNESCO Director General, Irina Bokova, highlighted major concerns about the new threats to archeological sites in Egypt.  It has become very clear that over the last six months many of Egypt's national heritage sites, especially Dahshur in Giza and Tel Al-Amarna in Minya have been vandalized. 
During this trip, various projects that have been funded and supported by UNESCO were discussed and new action plans are being created.  These new projects include the construction of the National Museum for Egyptian Civilization (NMEC) in the Fustat area in Old Cairo and the Historic Cairo Rehabilitation Project (HCRP). In addition, there have been talks about establishing a regional center for World Heritage in Cairo focusing on Africa, which according to the officials will help African countries to protect their archeological sites listed on the World Heritage List as well as providing training for African archeologists and curators.
The Egyptian officials said that UNESCO did not threaten to remove Egypt's sites from the World Heritage List but have listed many concerns about these sites.  These officials also stated that the government has now issued over fifty four urgent declarations.