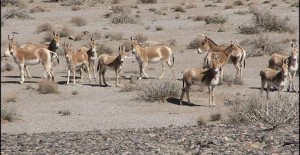 Persian Zebra or Iranian Zebra, is one of the species of Asian Zebra (Equus hemionus) and a large mammal belonging to the horse family. It is indigenous to the deserts of Iran, Syria, India and Tibet. Persian Zebra is similar to a donkey but slightly larger in size.
Persian Zebra is now critically endangered, and the remaining numbers can now be found in two areas of Iran, including in Touran National Park and other protected areas of Bahram'gur.
Destruction of the natural habitats for these animals, lack of proper management of protected areas and hunting are only a few factors that have threatened the survival of these animals. The International Union for Conservation of Nature (IUCN) currently lists the animals in the Valley as "endangered".
There is currently no accurate official count of these zebras. The Environmental Protection Agency recently announced that the number is 330, while only last autumn 2012, there were over 433 of them still alive. It then looks like that in the last six months; over 110 of them have died.
It seems that more attention and serious measures need to take place in order to preserve Persian Zebra.