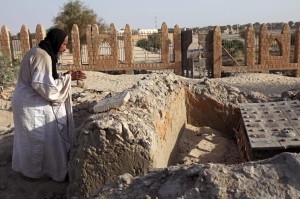 As reported by the Associated Press (AP), the main suspect in the destruction of Mali's historic city of Timbuktu has been arrested and been sent to the International Criminal Court (ICC). This is the first time that a suspect is being tried and sent to ICC for war crime, for deliberately destroying religious or historical monuments and a World Heritage Site.
Mali's government asked the court in 2012 to investigate crimes committed on its territory, and the prosecutors opened an investigation in 2013. However, this individual is the first suspect detained but the government of Mali believes that he is not the only person responsible for the destructions of the Heritage sites. The officials have announced that they believe that this is the start of a trial against the people who destroyed the Timbuktu mausoleums, and they expect other individuals will be tried too.
The suspect is charged in the destruction of 10 historic buildings, including mausoleums and a mosque in Timbuktu. Niger sent him to the court based on an arrest warrant issued a week ago and he was transferred to The Hague early Saturday. No date was immediately set for his arraignment.
The entire city of Timbuktu is listed as a World Heritage Site by UNESCO. At the peak of its influence in the 15th and 16th centuries, Timbuktu counted 180 schools and universities that received thousands of students from all over the Muslim world.
Islamic extremists who overran Timbuktu in 2012 destroyed 14 of the city's 16 mausoleums, one-room structures that house the tombs of the city's great thinkers. The extremists condemned the buildings as totems of idolatry. The 14 mausoleums have since been restored by the United Nations.
The militants were driven out after nearly a year by a French military intervention.
"Today's arrest signals that there will be a price to pay for destroying the world's treasures," said Corrine Dufka of Human Rights Watch's Africa division, as stated in the AP article.