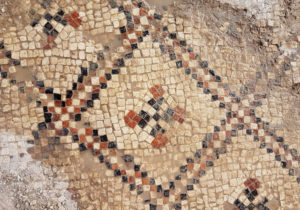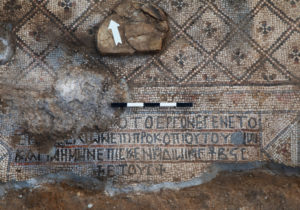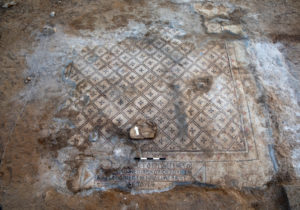 The well-preserved remains of a 1,500-year-old colored mosaic floor from a Georgian church or monastery was unearthed during an excavation in the coastal city of Ashdod, the Antiquities Authority announced this week.
The mosaic was discovered in August at the ancient tel, or archeological mound, of Ashdod- Yam, under the direction of Dr. Alexander Fantalkin of Tel Aviv University's Archeology and Ancient Near Eastern Civilizations Department, and Prof. Angelika Berlejung of Leipzig University.
According to the authority, the mosaic includes a fourline Greek commemorative inscription dedicated to the structure's builder, Bishop Procopius, as well as the year of its construction, based on the Georgian calendar.
"[By the grace of God (or Jesus)], this work was done from the foundation under Procopius, our most saintly and most holy bishop, in the month Dios of the 3rd indiction, year 292," it states.
"This was many years before it was used in Georgia itself," Segni said.