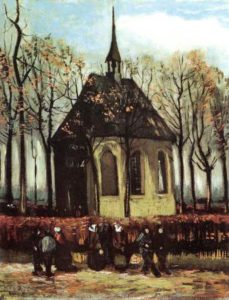 Last month (September 2016),  the Italian anti-mob Police recovered paintings from a house in stronghold of Camorra crime syndicate near Naples.  Two Vincent van Gogh paintings that were stolen 14 years ago from a museum in Amsterdam more have been recovered by Italian authorities in Naples following a sting operation that targeted organized crime.
The paintings, View of the Sea at Scheveningen, painted in 1882, and Congregation Leaving the Reformed Church in Nuenen, painted in 1884, were the two paintings recently discovered after allegedly being hidden away in one of the houses of an international drug trafficker based in Castellammare di Stabia, near Naples.
The authenticity of the paintings has already been confirmed by an expert from the Van Gogh Museum in Amsterdam, from where they were stolen in 2002.  The experts from the museum have stated that they are not sure when the paintings were supposed to be returned to the museum and that one of the paintings has a small patch of damage in the bottom corner. Otherwise the paintings appeared to be in good condition.
The theft was considered one of the most infamous heists to rock the art world in recent times. The thieves entered the Van Gogh museum from the roof of the building, which allowed them to get past security and cameras undetected, even though their entry did trigger alarms. They had used a ladder to climb up to a window and then smashed through it using a cloth to protect their hands.
As reported by a number of news outlets, the two men, Octave Durham, an art thief who earned the nickname The Monkey for his ability to evade police, and his accomplice Henk Bieslijn, were eventually convicted of the theft in 2004 after police discovered their DNA at the scene of the crime. They were handed four year sentences, but authorities were never able to track down the stolen works.
View of the Sea at Scheveningen is one of Van Gogh's early paintings and depicts the beach resort close to The Hague. It was the only work in the museum's collection from Van Gogh's two years in The Hague and one of just two Dutch seascapes the artist made.
Congregation Leaving the Reformed Church in Nuenen is a smaller work that Van Gogh painted for his mother in 1884, and depicts a church in Brabant where his father Theodorus was a preacher. After his father's death in 1885 Van Gogh revised the painting, adding figures of women wearing black shawls used in mourning.