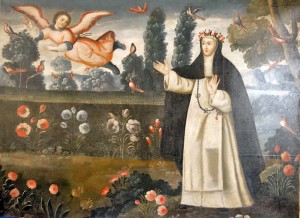 Six years after nine 18th century paintings were stolen, they were finally returned earlier this month. The paintings by Mexican artist Miguel Cabrera were stolen from Peru and had been smuggled out of the country for trafficking on the international art market.
In 2009, several of the paintings had been discovered at an auction house in Cedar Falls, Iowa. They were reportedly consigned by an unnamed art dealer. One of the paintings, titled "Resurrection of Lazarus" – was discovered for sale at an unidentified auction house in New York City earlier this year. After confirming it was also a stolen Cabrera, the FBI took possession of the painting and returned it with the rest of the paintings. It is still not clear how the art dealer or the person who put the ninth painting up for sale at auction in New York had obtained the works. In both cases, the consignors relinquished all claims to the works after being shown evidence that the paintings were stolen according to released information, however, the investigation is continuing.
The nine paintings were returned earlier this month (Sep 2014) to the government of Peru in a ceremony at the United States Attorney's Office in lower Manhattan that was attended by Harold Forsyth, Peru's ambassador to the United States as reported by several media outlets.