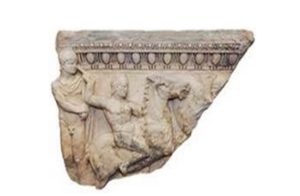 A part of a marble sarcophagus that was stolen in 1988 and was found and confiscated from a gallery in Manhattan, New York, where it was displayed will return to Greece, the District Attorney's office announced on Friday.
The sarcophagus dates back to 200 AD and depicts a battle between Greek and Trojan fighters and it was smuggled abroad and transported through Europe before finally ending up in New York.
The official repatriation ceremony as well as the relevant protocol took place in the office of District Attorney of Manhattan Cyrus Vance Junior.
The DA's office went into a gallery in Midtown Manhattan and seized the fragment – which was on display as a centerpiece – while, according to reports, once presented with evidence that it had been stolen, the Manhattan-based gallery handed the item over willingly.
According to cbslocal.com, the Manhattan DA's office has recovered and returned several ancient artifacts as part of criminal investigations and prosecutions