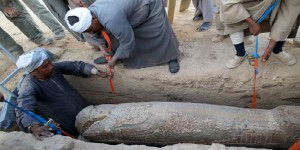 Just about a week ago a Spanish team of archeologists working in Egypt in collaboration with the Egyptian antiquities ministry unearthed a 3,600-year-old mummy in the ancient city of Luxor as reported by the Associated Press and Al-Ahram newspaper.
Archeologists believe that this rare find dates back to 1600 BC, when the Pharaonic 17th Dynasty reigned. The sarcophagus which still bears its original coloring and writings was well preserved in wooden sarcophagus. Archeologists also believe that the mummy most probably belong to a high official since the sarcophagus is engraved with titles of the official. The sarcophagus is engraved with hieroglyphs and decorated with inscriptions of birds' feathers. However, the exact identity that official will have to be studied.
The Spanish-Egyptian team also found two other burials while digging at the Draa Abul-Naga necropolis on Luxor's west bank, but they were both empty and believed to have been robbed by grave robbers.