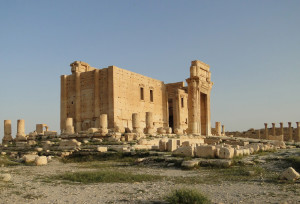 A week after reports of destruction by Islamic State militants in the ancient city of Palmyra in Syria, the most recent reports verify that ISIS militants has destroyed temple of Bel.
The Syrian Observatory for Human Rights, an activist and monitoring group based in Britain said Sunday that ISIS militants has destroyed the nearly 2,000-year-old temple. The Temple Bel was an ancient stone ruin located in Palmyra. The temple was dedicated to the Semitic god Bel, worshipped at Palmyra in triad with the lunar god Aglibol and the sun god Yarhibol, and it formed the center of religious life in Palmyra and was dedicated in 32 CE.
Earlier today as reported by BBC and a number of other sites, the satellite images confirm that a temple in the ancient Syrian city of Palmyra has been destroyed, the United Nations says.