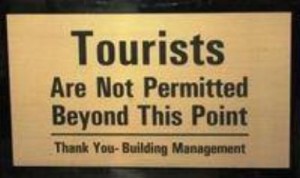 I remember reading somewhere last year (for the sake of giving the right credit, I think it was a life style magazine) about a couple of British men who were supposedly taking a walking tour in Uganda and by mistake wondered into a Congolese farm where they were chased by a knife-wielding farmer.
The adventure tourism or tourism in the war and conflict zones has become more and more popular over the last few years. Therefore, creating some new discussions about the balance between allowing (or taking) tourists to these troubled parts of the world and making sure tourists are safe.
The most recent news from Egypt that a tourist bus had exploded killing 4 people and injuring 14 in the Egyptian resort town of Taba, (as reported by CNN) has again raised the same questions. The tourist bus reportedly carried 33 tourists from South Korea who had visited the Greek Orthodox Monastery of St. Catherine's, in the Sinai Peninsula. The bus was headed to Israel and was waiting in line near a border crossing. A jihadist group has claimed responsibility for the bombing.
The Egyptian revolution that toppled President Hosni Mubarak in 2011 has also greatly impacted the tourism industry in Egypt which has always been a great source of revenues for the country. While the Egyptian government has continuously stated that the country is taking safety measures to protect tourists, the safety concerns still remain. Adventure tourism and traveling to conflict zones is a growing business area. The sector includes everything from climbing Mount Everest to visiting conflict areas like Syria, and Afghanistan, is growing by over 15% each year and is worth $billions.
The other factor which is really important in making sure tourists are safe even if the trip is not to a war and conflict zone is "personal safety". India which has always been a favorite tourist destination has in the last two years experienced very high rates of rapes of tourists (as well as local women who have been raped in several incidences as reported by the international news agencies). Even though the news have not deterred tourists from visiting the country, it is very important for tour agencies, tour guides and local and national officials to create better awareness programs for international tourists. For example the U.S. state department always has warning guidelines for American tourists and American citizens can check these warnings (on the countries they are traveling to) on the U.S. department's website. In addition, it is important for tourists to clearly follow the instructions given to them by the tourists' agencies, embassies and in most cases not to wonder through areas where their safety is not guaranteed