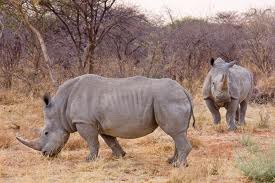 Africa's rhinoceros are facing critical crisis and extinction. The main cause is illegal poaching which has reached record levels last year in South Africa and other countries in Africa. This has been an escalating trend which has worried environmentalists and conservation activists.
Between 1990 and 2007, only 36 rhinos were killed as compared to over 1600 just in the last two years in South Africa alone. The poaching escalation has therefore reached an alarming crisis for South Africa's white rhino population.
Conservationists blame increasing demand from countries like China and Vietnam, where rhino horn has become a highly prized status symbol and valued gift.
South Africa, Mozambique and other countries in Africa need tougher anti-poaching laws and enforcement which need to be addressed immediately according to activists. According to the New Scientist, earlier this month, $350,000 was raised for rhino conservation by auctioning off the right to kill a specific rhino. Conservation groups ended up protesting the auction which would have raised $1 million.
Last year, the Western black rhinoceros were officially declared extinct and the black rhino was listed as "critically endangered" by the International Union for Conservation of Nature (IUCN) as reported by several networks including CNN. The Western black rhino which is a subspecies of black rhino was last seen in 2006, and over 70,000 black rhinos lived in the wild in 1960. However, it has been estimated that less than 4,000 remain today.