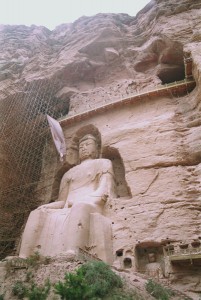 The third tallest Buddha statue in the North-Western Gansu province of China will be thrown open for public viewing, after two years of maintenance by archaeologists.
The giant statue is awaiting for final check and clearance from the cultural heritage inspectors before being open to public view.

The statue dates from the Tang Dynasty (618-907), is expected to be open to visitors in early August in the Bingling Temple Grottoes.
Restoration has taken approximately 2 years after damage over the centuries.  Repairs were made to the head, face, hands and clothes, as well as reinforcements to the base of the statue.

The Chinese government put the temple under historical protection in 1961 and have applied to UNESCO for World Heritage site status.