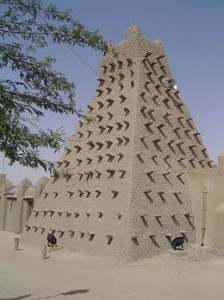 In 2012, Mali experienced occupation by armed extremists in the north and centre of the country and during that period a number of World Heritage sites were either badly damaged or destroyed as we have reported here on WCHV website.
These historical sites and edifices were examples of history and the golden age of Timbuktu as an economic, intellectual and spiritual center in the 15th and 16th centuries. These buildings are also exceptional examples of unique architecture of that period which had been preserved by the citizens of Mali for centuries.
The reconstruction project which will focus on the sixteen of them are part of the World Heritage site has been financed by Mali and UNESCO with contributions from Andorra, the Kingdom of Bahrain, Croatia and Mauritius as well as logistical support from the United Nations Multidimensional Integrated Stabilization Mission in Mali (MINUSMA) as reported by UNESCO.
Earlier this month (April 2014), Mali's Minister of Culture, Bruno Maiga, laid the first earthen brick on the mausoleums of Sheik Baber Baba Idjè and Sheik Mahamane Al Fullani, in the presence of UN and UNESCO officials. Diplomats from France, South Africa and Switzerland were also present at the ceremony.