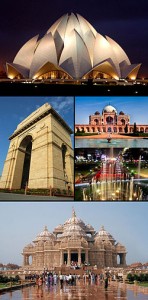 This month (Jan 2014) Delhi, India aims to earn the prestigious designation of a World Heritage City with procedural step taken by the Ministry of Culture, when he sends a dossier to the United Nations Educational, Scientific and Cultural Organization (UNESCO) by the end of the month. In the submission, the Ministry will have to highlight the heritage behind each site and explain that all the proposed sites are being maintained as per the international standards. Basically, the Ministry has to explain why each site is of unique outstanding value.
However, another development in Delhi is also of major importance which could prove to be a new model for conservation of other world heritage sites. Humayun's Tomb, one of the sites which will most probably be included in the dossier, is receiving major restoration work as a result of a partnership between two private foundations and the Indian government. This type of partnership has proven effective in India and could very well be an example of how public and private partnerships could work when world heritage sites are in great need of restoration.  In many cases, government neglect or lack of (or limited) public funds create the problem.
In case of India, recent reports by the Comptroller and Auditor General, the official auditor of India's public sector, had warned that World Heritage sites in India are seriously neglected by the Archaeological Survey of India, a government agency responsible for the preservation of the monuments. In fact, of the 3,678 historical structures in India, the auditor surveyed a sample of 1,655 monuments over the span of a year as reported by Indian media.
The work on Humayun's Tomb started in 1997, when the Aga Khan Trust for Culture, a private development agency, took on the project, and ten years later, it partnered with Sir Dorabji Tata Trust, a philanthropic organization, and the Archaeological Survey of India to commence the restoration work at the structure. The Aga Khan Trust helped finance the $650,000 tomb's garden restoration, but it has declined to reveal the total cost of the project.
It has been reported by the experts that the condition of Humayun's Tomb in New Delhi had greatly deteriorated and water seeped through the roof and the tiles on the canopies were covered in dirt. The monument, which houses the tombs of the Mughal emperor Humayun, his wife and other unknown Mughal family members, was designated a UNESCO World Heritage Site in 1993. Public and Private partnerships have worked in many other sectors and perhaps this model could be a way to fund many much needed restorations across the world.