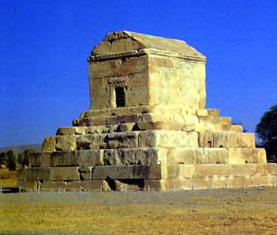 A paste-making factory has recently been opened in the vicinity of the ancient Pasargad site in Iran. Pasargad, the old capital city of the Achaemenid Empire under Cyrus the Great, was constructed in the sixth century BC. It is now located near the city of Shiraz and is also the location of Cyrus' tomb, an archaeological site and one of Iran's UNESCO World Heritage Sites.
Two years ago, the Iranian Cultural Heritage Organization (CHO), an organization that operates directly under the supervision of the President of Iran, issued permission to build the paste-making factory, without the public's knowledge. Recently however, many archeological experts have begun to protest, although relevant authorities have not paid much attention to such actions.
On April 26, 2016, Mohammad Hassan Talebian, deputy of the CHO, told reporters that the local office of the organization gave permission to erect the factory two years ago, against all relevant laws. The CHO is now taking the case to court.
He also added that the factory is not standing inside the boundaries of the site, but is actually built on the edge.