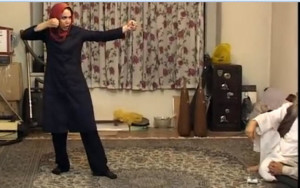 Ms. Gordafarid, a narrator and storyteller of Shahnameh ("The Book of Kings" penned by Iranian poet, Ferdowsi, in 10th century A.D.), a researcher and an activist in the field of intangible heritage
receives the Nowruz Award for the best personality of the year in the intangible heritage category, for:
– Her persistence to learn how to tell Shahnameh stories in a traditional way; a domain traditionally solely belonging to men.
– Her courageous performance as a raconteur of old Persian stories in public places such as tea-houses, traditional sports clubs and street of a country where such activities are preserved for men only.
– Her innovations in the way traditional storytelling is performed and, thus, bringing it to a contemporary level.
– Introducing classes for children and youth to familiarize them with this art.
– basing her works on reliable texts of Shahnameh.
****
Undoubtedly, Gordafarid's decision to embark on a journey into the realm of telling stories of Shahnameh was an important one. Narrating the stories of the "book of Kings" (penned by Ferdowsi in 10th century A.D.) in a traditional way has always been an undertaking for men. Gordafaris's insistence and persistence to enter this realm coincided with her decision to learn the traditional methods from the distinguished Masters (Morsheds). She successfully finished her apprenticeship, gaining the Masters' approval.
However, she did not stop there. She decided to perform in the public just like trained men did. Her appearance in teahouses, traditional sports clubs, gathering of dervishes, as well as performing in the streets has thus become a significant event in the history of story telling in Iran.
Although her involuntary forced departure from Iran was as difficult as it is for anyone who is forced to go into exile, her presence in the West has resulted in the introduction of this ancient art to Iranians outside Iran and especially the younger generation. Her presence (in the West) has also resulted in the introduction of an art form to the Western world that is an original form of Iranian performing art, based on unforgettable stories coming from the ancient history of Iran.