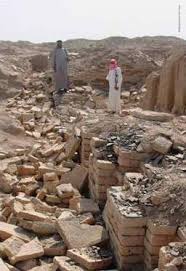 World heritage experts, Curators, and Iraqi officials have been calling for assistance from the US government and the world community to help and save Iraq's national heritage and sites being destroyed by the militants while they are helplessly watching the destructions from a far.
Many archeologists and experts from around the world labored mightily to unearth the sites and discover details of the history over decades, however these sites are being destroyed as militants move through cities and different areas of Iraq. Nineveh and the nearby city of Mosul have witnessed much of the destruction. Images from social media appear to show the destruction of about a dozen places of worship across northern Iraq, in areas recently taken over by extremist militants. For example, the al-Qubba Husseiniya, a Shia shrine, was shown in one picture being blown up in the city of Mosul. However, the militants have attacked Shia and Sunni shrines alike, and have vowed to continue destroying places of worship which they do not approve of. The attack on heritage sites are not just on the Moslem sites. As reported by the Daily Beasts, the militants are also destroying a number of Christian churches.
One of the major concerns as reported by several news outlets, is that once again militants operations could become funded by the looting antiquities. In neighboring Syria a major source of revenue for one groups' insurgency has been the sale of looted antiquities on the black market. As reported in The Guardian, a windfall of intelligence just before Mosul fell revealed that al-Baghdadi had accumulated a $2 billion war chest, in part by selling off ancient artifacts from captured Syrian sites.