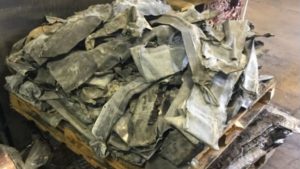 As reported by BBC, Police in England has teamed up with heritage experts to crack down on gangs stealing valuable metal from churches and historic buildings.  The Local Government Association estimates metal thefts – of materials including electricity cables, railway lines, war memorials, road signs, children's playground equipment and church roofs – cost the country as much as £770m a year.  In the case of historic buildings and churches, the thieves are stealing years of history and destroying English cultural heritage. 
Officers are working with Historic England to inspect scrap yards where thieves might try to sell lucrative metals such as lead and copper as reported by BBC. The police say that some dealerships are failing to carry out checks when they are offered metal for sale.  In the partnership between the police and experts, officers from Operation Crucible are taking members of Historic England along when they investigate scrapyards to help them understand how thieves operate.
The Scrap Metal Dealers Act 2013 requires all scrap dealers and motor salvage operators in England and Wales to apply for a license from their local authority and keep records on whom they buy from.  The council also has the power to assess whether each license applicant is a "suitable person" – including examining criminal convictions – and increased powers to carry out inspections.