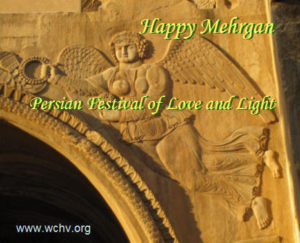 Mehrgan is one of the greatest and most ancient national festivities of Iranian people, observed on October 7, to denote the beginning of autumn. It is an occasion to celebrate love, light and fidelity and Iranians have observed it for thousands of years.
Unfortunately, by the advent of the Islamic Revolution in Iran, all secular and popular festivities were banned and they were not allowed to be observed in public places. Nevertheless, and as far as it is possible, Iranians celebrate the occasion, far more expanded than the pre-revolution times. Outside Iran, millions of Iranians observe it vastly with enthusiasm and perseverance.
In 2010, the Pasargad Heritage Foundation (PHF), an NGO registered in USA, working for preservation of tangible and intangible heritage of Iran, applied to UNESCO for the registration of Mehrgan as a festivity with its roots in the soil of human regards for nature and mankind's happiness.
This was a symbolic gesture because UNESCO only accepts those applications in this regard that are made by the governments. Thus, PHF has done so with the hope that in the future the road for Mehregan registration by UNESCO is paved and the bureaucratic procedures are facilitated.