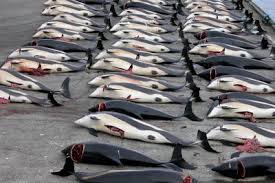 About a week ago, a Japanese whaling fleet left port under tight security in the first hunt since the UN's top court ordered Tokyo to stop killing whales in the Antarctic.
The international Court of Justice had ruled that Japan had misrepresented the hunting in Japan's Southern Ocean expedition as a scientific research activity while it was actually a commercial one. Four ships departed from the fishing town of Ayukawa in the northeast, marking this season's start to a coastal whaling programme not covered by the International Court of Justice's landmark ruling.
In the last several weeks, Japanese politicians have criticized the ruling and the international public opinion as cultural imperialism by the West. There is also local pressure from inside Japan in favor of annual hunting, expressing fears that the court's decision could ultimately ruin many peoples' livelihoods in Japan. A recent poll also shows that 60 percent of Japanese people support the country's whaling program, but only 14 percent eat whale meat.
When Tokyo called off the 2014-15 season for its Antarctic hunt, the country proposed to redesign the controversial whaling mission in order to make it more scientific. Japan has continuously battled for its right to hunt which has put the country face to face with anti-whaling nations like Australia, which brought the case to the international court, arguing that Tokyo's research was aimed at skirting a ban on commercial whaling. At the same time, Japan has hunted whales under a loophole in a 1986 global moratorium that has allowed it to conduct lethal research on the mammals, but has openly admitted that their meat somehow made it to dinner tables.
Tokyo has always maintained that the whale population was large enough to sustain commercial hunting. In the 19th century, both Japan and the US hunted whales extensively as they were a source of fuel and food.