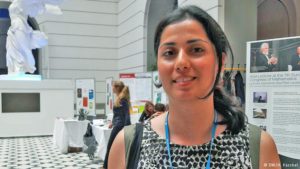 Iranian-Swedish mathematician Sara Zahedi has won a prestigious European Mathematical Society Prize, the top honor for young European mathematicians awarded once every four years.
Zahedi is being recognized for her efforts to improve computer simulations of the behavior of fluids that don't mix together.  Her research could be helpful in reducing environmental damage from oil spills, she says.

One of 10 recipients age 35 or under, Zahedi is the only woman to win one of this year's prizes, which were announced last week. And she's one of only nine female recipients since the EMS prize began in 1992. Zahedi will receive a check for 5,000 euros.