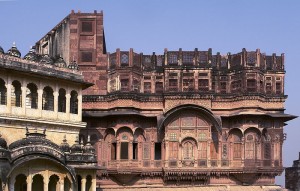 Six forts of Rajasthan that date back to 8th-19th centuries have been included in UNESCO's World Heritage list.  The International Council in Monuments and Sites (ICOMOS), which evaluates cultural properties for UNESCO, recommendated last month (May 2013) the inclusion of Chittaurgarh fort in Chittaurgarh district, Kumbhalgarh fort in Rajsamand, Ranthambhore fort in Sawai Madhopur, Jaisalmer fort in Jaisalmer, Amber fort in Jaipur and Gagron fort in Jhalawar on the UNESCO's list.
These forts are examples of military architecture and the structures range from 8th to 19th century and comprise multi-gated approaches through massive and high fortification walls, palaces, temples, memorials and water reservoirs according to archeologists. The extensive fortifications that are up to 20 km in circumference exploit the contours of the hills, and specifically the river at Gagron, dense forest at Ranthambhore, and desert at Jaisalmer.
India currently has 29 heritage sites listed by UNESCO which 23 in the cultural category and six in the natural category. Last year, the Western Ghats were inscribed on the list in the natural sites category. The Majuli islands of Assam are also currently in referral stage.  The sites that have been approved this time were rejected by UNESCO last year. India's Ministry of Culture had written to the UNESCO, objecting to the rejection as factual errors were found in the reasons listed for the rejection as reported by Times of India.