UNESCO's Memory of the World Register is a list of library collections and archive holdings of world significance. This is an international initiative launched in 1992 to safeguard the documentary heritage of humanity against neglect, damage, the ravages of time and climatic conditions, and willful and deliberate destruction.
The five books were proposed recently by the Iranian National Commission for UNESCO, the National Library and Archives of Iran (NLAI).
The five books include The Bustan (The Orchard) and the Gulistan (The Rose Garden) of Persian poet Sadi (c. 1213-1291), inscribed by the 14th century calligrapher Ahmad Shirazi and preserved in the National Library and Archives of Iran.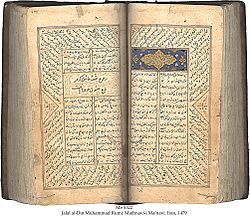 A copy of Masnavi-ye Manavi, the magnum opus of the Persian mystic and poet Molana Jalal ad-Din Rumi (1207-1273) is the second document/book.
The third document is Abu Is'haq Ibrahim ibn Muhammad al-Farisi al-Istakhri's "Kitab al-masalik wa-al-mamalik" (Book of Roads and Kingdoms) dating back to the 10th century. The Persian translation of the book is being preserved in the National Museum of Iran. However, the original text is being kept in a library in Germany and the book has been jointly proposed by Iran and Germany to UNESCO.
A rare copy of "Al-abnia 'an haqaeq al-adwia" written by the 12th century writer Abu Mansur Mowaffaq Heravi is the fourth book.
The fifth document is Safarnama (travelogue) by the 11th century Persian poet Nasir Khusraw, he concluded.
When creating the Memory of the World Register, UNESCO realized the need to protect such fragile yet important component of cultural heritage of the world. This list was established with the aim of preserving and digitizing humanity's documentary heritage.