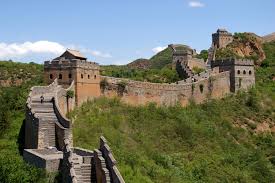 A recent repair and renovation work to the Great Wall of China,  a UNESCO World Heritage Site has created a lot of questions and concerns over how preservation of heritage sites are being done in China.  Chinese officials are being questioned over renovations to a crumbling section of the 700-year-old section of the Great Wall of China.  Many experts even in China are calling the work "ridiculous" and sub-standard.
It has been reported that the widely mocked project has involved five miles (8km) of the un-restored Xiaohekou section of the wall.  Defensive work and guard towers were knocked flat as part of the restoration project which was officially launched to prevent further deterioration caused by the natural elements.  However, the reports show that rather than using correct restoration and preservation techniques, sand and other materials were poured on top, protecting the wall but giving it the appearance of "an elevated bike path" according to some experts.
The head of the Liaoning provincial antiquities bureau, Ding Hui, was quoted by the newspaper, Beijing News that the work was completed two years ago, over the course of three months, as part of a government restoration plan.  It has been reported by several news agencies that the government's culture bureau in Huludao city, which oversees Suizhong, has said that the restoration plan had been approved at central government level by the State Administration of Cultural Relics.  The officials have also said that the old wall was badly damaged over a long period of time and the restoration work was aimed at preventing it from falling apart and being washed away by the rain or becoming a safety concern. 
Many experts, however, are concerned that the work was done with major inconsistency, with different materials, including lime, mortar and concrete, used in different places and several news outlets have reported that Dong Yaohui, vice-chairman of the Great Wall Studies Society, called the restoration work "basic and crude" further adding that  "This sort of repair work harms the people's appreciation of the Great Wall's history and culture, severing a channel of dialogue between the people and cultural heritage", Mr. Dong was quoted as saying by the Beijing News.
The section of the wall, built in the Ming dynasty in 1381, lies in Liaoning's Suizhong county, along the border with Hebei province.  The wall dates from 220BC, when China joined existing walls and fortifications to defend against invasions from northern tribes.  Construction continued up to and through the Ming dynasty (1368-1644) until the wall became the world's largest military structure.  Estimates of its overall length vary, but according to UNESCO, which named it a world heritage site in 1987, it once ran for more than 12,500 miles (20,000km).