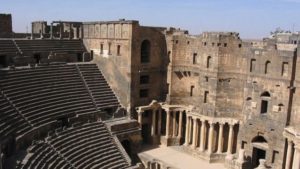 Earlier this month on June 2nd, an expert meeting was held in Berlin for two days and brought together over 230 Syrian and international experts to discuss safeguarding Syria's heritage.  The meeting which was organized by UNESCO and Germany aimed to assess damage to cultural heritage sites in Syria, develop methodologies and define priority emergency safeguarding measures for the country's heritage. The meeting was opened by Irina Bokova, Director-General of UNESCO, and Maria Böhmer, Minister of State for Foreign Affairs of Germany.
The Conference participants included leading archaeologists, anthropologists, and experts in monument preservation, architects and urban planners. Among them were representatives of the Syrian Antiquities Directorate (DGAM) as well as other scientists and experts from or working in Syria.  A number of young Syrian experts were also invited to the meeting and a new mentoring system structure was proposed to bring together young experts and to establish training of professionals for the protection of Syrian cultural heritage.
According to the UNESCO's website, the expert meeting for the emergency safeguarding of Syria's cultural heritage included several roundtable discussions on damage assessment and current actions by cultural heritage professionals. In addition, thematic sessions focused on the role of local communities, documentation and archives, capacity building and safeguarding plans. Participants also proposed practical measures to address damage assessment, mapping and inventories, legal and institutional frameworks, technical assistance, including first aid measures for built heritage, and capacity building, as well as communication and awareness-raising. Concrete measures were identified for historic cities, archaeological sites, museums, movable objects and intangible heritage and these were added to the UNESCO Recommendations and Road Map, adopted in 2014.
One of the major subjects discussed included the critical and persistent issue of looting and illicit trafficking of cultural heritage. The experts called for a comprehensive list of looted objects from Syria to complement the International Council of Museum's existing Red List and appealed on all governments to implement United Nations Security Council Resolutions banning the trade in cultural heritage from the country.
Furthermore the experts appealed to international funding and development agencies to include cultural heritage in major funding programs and post-conflict recovery plans. At the end of the conference, the experts presented proposals to improve the future prospects of Syria's heritage through post-conflict recovery plans.