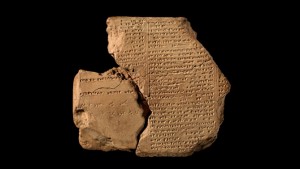 A rare exhibition is currently on display now through January 5, 2014 at the Royal Ontario Museum, Toronto, Ontario, Canada.  Mesopotamia: Inventing Our World showcases hundreds of artifacts illustrating the achievements of these ancient empires. Highlights include a rare surviving Assyrian sculpture depicting King Ashurnasirpal II, and a terracotta relief of a striding lion that once adorned the palace of Babylon's Nebuchadnezzar II, who famously conquered Jerusalem, destroyed the Temple and exiled the Jews to Babylon.
Mesopotamia, included the great ancient empires of Sumer, Assyria and Babylon. Encompassing present-day Iraq, northeast Syria, western Iran and southeast Turkey. The objects in the exhibition come from the British Museum's rich collection as well as from the Royal Ontario Museum, the University of Chicago Oriental Institute Museum, the University of Pennsylvania Museum of Archaeology and Anthropology and the Detroit Institute of Arts.
Also included are presentations of archaeological excavations conducted in the region in the 19th and early 20th centuries. The visitor will also experience audio-visual installments and a 3D fly-through of Babylon, highlighting the Tower of Babel and the Hanging Gardens of Babylon.
It has widely been reported in the media that following the American invasion in Iraq, looters and smugglers stole major pieces and artifacts from the Iraq National Museum, creating a major loss to the county's wealth of national heritage. Many architectural remains have also been greatly damaged from war and devastation and artifacts of tremendous national value have been destroyed.
For more information visit Royal Ontario Museum, Toronto, Ontario, Canada
www.rom.on.ca